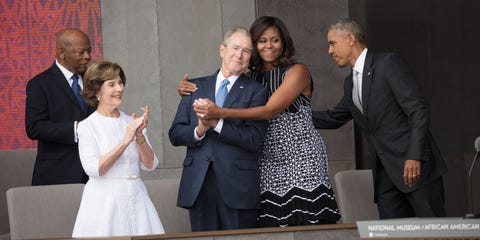 Yesterday was a somber day in Washington, D.C. as the nation's capital said goodbye to Senator John McCain. Meghan McCain and former Presidents Barack Obama and George W. Bush all delivered emotional and poignant eulogies, with some pointed words for Donald Trump. But there was one lighthearted moment caught between Michelle Obama and George W. Bush that has the internet obsessed and feeling hopeful.
During the service, cameras showed Bush covertly passing the former First Lady some candy from his wife, Laura Bush. The sneaky exchange was not missed by viewers and has since taken over Twitter.
The feel-good moment has sparked a ton of reactions from Twitter users, who can't get enough of the sweet and relatable gesture. Some applauded the two for their friendship given their differing political views, while others are proposing their own show.